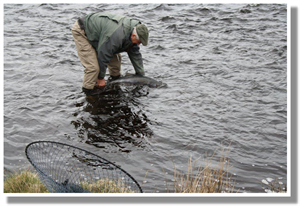 Although the fishing has been difficult during the week, for those who persevered, there always seemed to be one hour in the course of the day when the fish came on the take and substantial catches were made.
We have had quite severe thunderstorms yet it never seemed to clear the atmosphere properly, with sticky, muggy weather continuing.
A couple of years ago, one of the anglers took Dougie aside and asked him what this atmospherics was all about. After Dougie explained it to him, the angler confessed that he had been hearing so much about it he just thought that "Eddie and the Atmospherics" were some kind of Scottish Country Dance Band!